The digital world is always evolving and businesses are constantly moving with this shift. Here are 4 social media trends that will be gaining momentum during 2016.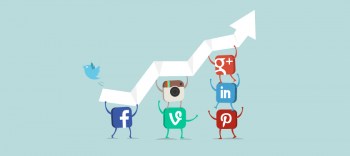 Focus on Engagement
As social media matures, we're seeing a shift from viral content towards creating content that resonates with the audience. This is a more valuable approach, as the people who are most likely to see your content on social are the people who already like your brand. It is important that businesses learn and understand what their audiences want and expect from their business. By delivering that, your audience will engage with your content and you'll begin to see an increase in the reach of your brand messaging.
The key to social is to deliver an excellent customer experience. This leads to happy customers, who can then become brand advocates that spread your brand messaging throughout their own extended networks.
Welcoming the Emoji
A big trend across all social platforms this year will be the Emoji. Facebook for example, is introducing a new emoji toolbar, leaving us to speculate what this might mean for our online communication and how social media users will adopt this trend.
Whether you like emojis or not, whether you use them or you don't, their influence cannot be argued. The trend is being driven largely by younger users as it continues to become a core element in social communication.
They have become a key communication tool: a way for people to express themselves quickly and easily, without having to explain themselves in too many words. This is particularly important when you consider the impact of the mobile shift. As more and more people communicate via mobile, any tools that can provide more convenience and simplicity are extremely valuable.
Mobile
The mobile shift is happening. If you're not optimizing your content or considering the mobile experience of your users when constructing your online presence, you're missing out. While this trend has been growing for some time, it will have its biggest impact this year. Mobile will become an essential consideration in all campaigns and digital programs.
It'll also become increasingly important for brands to understand how their audience is discovering and accessing their content. Knowing when, where and how people are connecting with your brand will form an essential part of any planning and will guide your brand's strategic direction.
Identifying Relevant Metrics
When people like your page, it indicates that those users want to see content posted by your business, so more likes means more reach. While metrics such as Likes, followers and re-tweets can all be used as indicators in certain contexts, the real numbers that matter are conversions. Click-through rates, actions taken, and purchases made are the factors that truly matter.
Through this, businesses are moving towards the next level of social ROI, where marketing teams can provide definitive links between their social efforts and real-world results.
Join in on the conversation!
source ©AndrewHutchinson_SocialMediaToday