Move over Obama, Caitlyn Jenner has broken the record for fastest growing fan base on the ever popular social platform Twitter. Jenner broke the record for the fastest person to reach one-million Twitter followers, cementing her status as a trans-gender icon in the process.
It only took Jenner, already well-known for her sporting achievements as well as involvement in reality TV's most famous family (The Kardashians), just four hours to reach the one-million follower mark. In the process of this achievement, she beat out US president Barack Obama, who took five hours to reach the mark a couple of weeks ago when he joined the platform.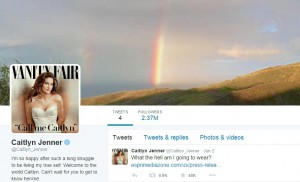 Jenner made her public appearance just a few days ago on both social media and the on the cover of Vanity Fair. While there was a small amount of backlash from the more conservative parts of the internet (shocker!), the reaction was largely positive.
Jenner responded on the popular platform stating "Another Jenner world record, and at 65? Who'da thought! Humbled & honored to have reached 1M followers in 4 hrs. Thank you for your support."
After 2 days of announcing the verified Twitter account, Jenner currently has a following of 2.37 followers, which accounts for about 1 million followers per day. Jenner's first tweet was a picture of her latest Vanity Fair cover. The magazine features the full debut of her new name Caitlyn, following Jenner's male-to-female transition. The tweet has been retweeted almost 225,000 times and favourited 250,000 times.