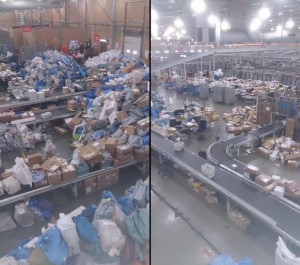 Recently a number of on-demand platforms are rising up from the South African market. The biggest of which I'm sure everyone has heard of by now, is Uber. As we all know, the reliability of public transport is… well, non existent – let alone considering the aspect of safety. Uber has taken this gap in the market and created a safe, reliable, on-demand transport tool. Now, it seems, that others are following in their footsteps – providing on-demand, reliable services where the state and larger companies fail to deliver the standard that the public expects.
Wumdrop – Okay, so we've had a little moan about public transport. Now lets talk about postal and courier services. Wow. What a shambles. I don't know if you have seen the state of the JHB mail hub recently?
Yeah, so it seems a saviour by the name of Wumdrop have started a courier service similarly designed to that of which Uber offer transport. The co-founder, Simon Hartley stated "People often say low Internet penetration is the reason South Africa has not enjoyed the same take-up in e-commerce as other markets. The real reason is that customer service and fulfilment are not as good." – Although maybe not 100% true, it definitely is a massively contributing factor and Wumdrop aim to correct this.
They are currently using freelance drivers as well as those part of existing courier services – however, Wumdrop drivers will receive 'intensive driver training' on how to provide good service to customers. Hartley says, "The whole point is that delivery in South Africa is not great, and the guy doing the delivery should not just be a delivery guy — he needs to be of the same quality as the store attendant and that is what we are trying to replicate."
Which brings me on to our next case, South Africa's very own Pinterest/Etsy born child, Laudable. Laudable works by offering users free sign up via Facebook. Once signed up, users can install a bookmarking extension (similar to that of the 'Pin it!' button). Then, when users locate an item available in South Africa – be it a fashion accessory or a nice plant pot, they can add it to their profile (and in turn, the Laudable database). Users may follow others and in turn, their feed is filled with items that they love AND that they can actually buy in SA, avoiding those extortionate import rates. But, where is the profit? "For now we just want to build the Laudable community. At a later stage we're going to look at offering onsite socially curated deals and taking affiliate fees for generating traffic that converts to purchases," says Ian Marvin, Co-founder of the start up.
So as you can see, the future of eCommerce and working public services looks pretty good for South Africa! Keep it up!
(Here are some other start ups you might want to check out: SweepSouth, MzansiStore.)
Peace out