Custom Audiences let you reach the customers you already know with ads on Facebook. You simply upload a list of email addresses or phone numbers of at least 20 people and Facebook will deliver your ad to those people if they're on the network.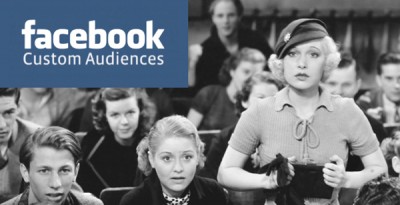 This is a powerful new tool that can be used to leverage your brand's consumer data and target individual consumers with various types of ads. It's based on the largely accepted fact that it's far easier and cheaper to sell to existing consumers than it is to look for and recruit new ones. And because you're targeting your own consumers, it also works to strengthen already established connections.
How does it work?
Consumer data is uploaded as a CSV file (Excel document) and Facebook matches this data with existing users. Facebook will then tell you what percentage of your potential audience you can target. Rather than choosing the targeting of an ad yourself – as you usually would – your ad is automatically targeted according to the list and data you have uploaded.  Because these consumers are already on your database, you know that they have some kind of interest in your brand.
Who is your audience?
People on Facebook
People connected to your page or event
People in custom audiences you created
Custom Audiences is highly targeted, which can result in much better ROI. In fact, this type of advertising has shown to have 80% better engagement than advertising without the inclusion of CRM data.
How are Facebook Lookalike Audiences different to Custom Audiences?
While Custom Audiences target consumers who are already in your database, Facebook Lookalike Audiences use your uploaded data to determine Facebook users who are most similar to your customers, and therefore more likely to be interested in your brand, services or products. Lookalike Audiences are ideal if you're looking to acquire new consumers, as targeted consumers are very similar to your existing consumers. You also have the option of selecting between 1% and 10% of the closest matched users, depending on how similar an audience you want to target.
source ©salesforce ©exacttarget
image ©adcorp