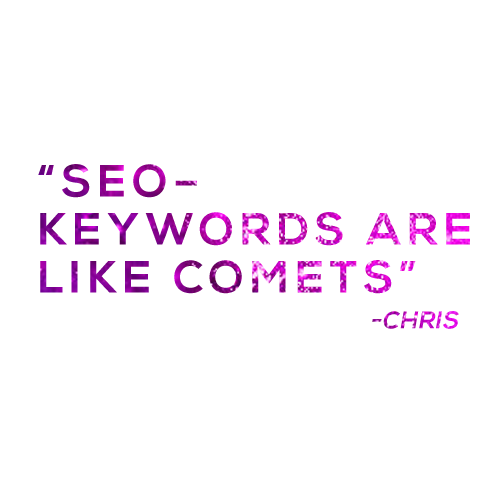 Keyword optimisation has dropped off the radar recently – like comets they pop up now and then, but where we are now in the search engine optimisation (SEO) universe, well, they just don't make the same impact that they used to. Relevant, fresh, social and quality linked content is the best content – and filling your web page with it is important. But the way in which SERPs read your webpage has to be priority. Even if you fill your pages with the most 'optimised' content, if SERPs can't interpret them, your efforts are lost.
Keywords, although less impacting in the literal sense of their role – can still make a massive contribution to your page optimisation by acting as a translator for SERPs. Below I have listed a few Keyword tips and tricks that you can include your optimisation and the impact the have on your optimisation!
URLs 4/5
Incorporating Keywords into your URLs is important – of course. Your URL structure is the foundation of your sites intent and the Keywords you put in each webpages URL will have an impact on the optimisation. Tailor each page individually and don't overdo it (relevancy/quality not quantity) generally I find the following to be good general practice:
www.SITE.com/Page-Keywords/To-pic-Key-words/
Remember SERPs can't read underscores, if you use them in any instance thewordswillbereadasonelongword. Instead, just use hyphens, it's legible to humans and SERPs alike!
Alt Tags 2/5
As with underscores, Google and other SERPs can't actually 'see' images. They rather draw on information to establish what an image is. One of the basic ways they do this is through the Alt Tag. Shown in place of an image if it cannot be loaded, it also acts as a label of Keywords – again make it relevant (to- the-image-then-topic-then-page).
Heading Tags 5/5
Heading Tags are a big player in your optimisation, your Keyword placement here is extremely beneficial and as always – keep it relevant to the page content. Only have one H1 Tag for the page – to title your content, use your H2 Tags as sub headings and follow down the natural filtration of heading numbers as you do your content.
Meta Titles 4/5
Not only do Meta Titles appear as the title of a page in search results, they're also a great way to build Keyword strength on your site, although limited to 55 characters, a good structure can make the most of this opportunity, generally I find a general good practice to be:
Topic Keywords | Page Keywords | Site Keywords
(you don't have to use pipes, I just think they look clean and they are SERP friendly)
Meta Description & Meta Keywords 3/5
Meta description and Meta keywords are not really needed anymore. The pages of your website that see most traffic will still require them (e.g. Home, Contact, About, Services). However, if you decided not to include one and have content on that page then Google will draw on this as your description for that webpage. Still it's better to be safe than sorry, so the pages you do choose to include a description and keywords on, remember;
Keep within their limits (Meta Description 160 chars max, 10-15 Meta Keywords),
Use Keywords wisely and with the latest relevance (5% of text).
Text content 4/5
About 500 words of text content per webpage is optimal, again using around 5% of text as keywords is sensible. Keep it new, social and relevant to the page.
Follow these general rules, keep your content fresh, active and part of the larger picture – just make sure you're speaking SERP language so that your keywords can have the greatest impact.