Earlier this year, Sterns unveiled their brand new, fully responsive website that Techsys Digital had spent the better part of 5 months building. It was a proud moment for both client and agency when the site finally went live and we watched the website's analytics with interest as customers began to explore what we'd created. At the time no one could have expected the website to perform as well as it has, and so six months on, we would like to share a few of our successes with the rest of the digital community.
One of Stern's primary goals throughout this project was to connect with their increasingly mobile orientated target market in a relevant and meaningful way. The fully responsive website adapts to suit any device it is viewed on, meaning that no matter how the customer chooses to interact with the brand, they will have a consistent and engaging experience. Mobile traffic to the website has grown an impressive 65% over the last six months, and the trend shows that this number is likely to keep growing.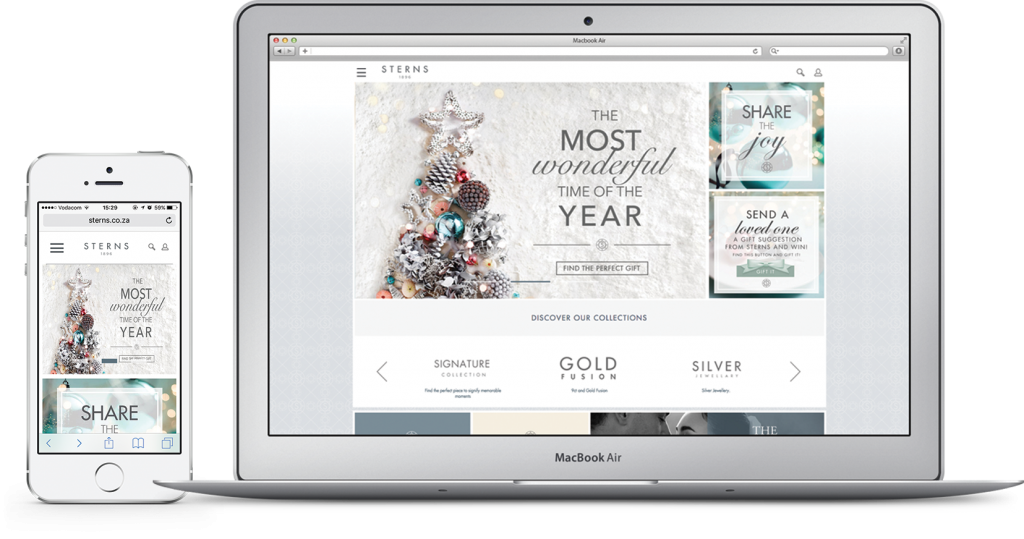 Other remarkable results we have achieved since the new website launched:
A 89.5% increase in overall website traffic
An average of 77 539 page sessions per month
An average of 7.56 pages viewed per session
An average session duration of 04:06 minutes
Another new feature on the website that has proved to be incredibly successful is its product ordering intelligence. This feature tracks user behavior and filters the most popular jewellery products to the top of the page, meaning that users are more likely to find their visit to the website relevant and interesting. It has helped improve the user experience and helped Sterns identify which of their products are the most popular.
Overall, the website has performed better than anyone could have hoped. Customers have expressed how much they like the new look and feel of the website as well as its improved functionality. However, no one could be happier than Sterns themselves:
"Our new website has let us reach a younger and more affluent market, which sits within our overall brand strategy. The clean, slick design speaks to our new CI which is elegant, contemporary and inspirational. The fact that the site is fully responsive also means that we are within our customer's reach at all times. Mobile traffic has increased by 65% since the website's launch, which has kept our brand relevant in an increasingly mobile orientated market." – Jill Cicero-Titus (Sterns Digital and Media Coordinator)
Like the sound of this? Contact us today on 021 788 6896 or info@techsys.co.za.
Alternatively you can visit our website or Facebook page!