Following the rebuild of Sterns' website, the brand has enjoyed in excess of 190% increase in visitors. After the launch of the site on the 13th May, traffic steadily increased to the site, no doubt in part to the stunning UX on the stylish new website not to mention effective launch strategies to pique consumer interest in the brands beautifully designed jewellery.
The site was a collaborative effort with integrated marketing agency 360eight, who supplied the slick designs. The minimalist grid like layout not only lends itself to mobile friendliness – rendering perfectly irrespective of the device used to access it, but, it also means that the site can be easily updated as and when new, exciting promotions occur. These include the annual Diamond promotion, beautiful bridal jewellery offers, and not to mention, gorgeous gifting ideas. The website is CMS driven, fully responsive and has a distinct CRM focus, integrating with cutting edge eCRM system, Brandtribe.
It allows you to browse collections, view stunning Anniversary gifts, ogle over designer watches and check out jewellery for the modern man. Products are crisply displayed with a flip over pricing animation as well as so called lazy loading to ensure quicker loading times.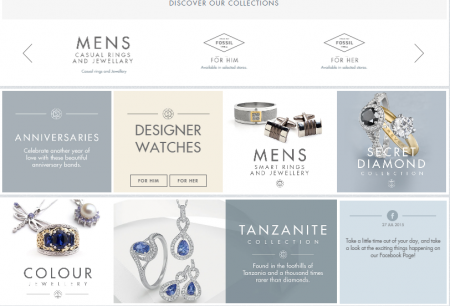 The site was delivered with extensive SEO implementation to ensure it not only looks beautiful but is also readily picked up by search engines, promising the exposure that such a digital experience demands.
It solidifies a long and fruitful relationship between Techsys Digital and Sterns and we couldn't be more delighted by the outcome. We look forward to maintaining and optimizing the website for a consumer experience which continues to dazzle Sterns' loyal fan base.