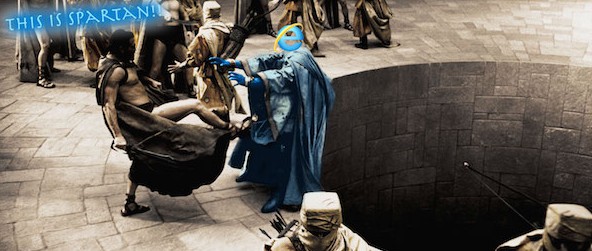 With a bit of luck, the dusky sunset of Microsoft's infamous Internet Explorer 8 may be in sight for everyone, especially developers. Released way back in 2009, it's certainly one of our biggest blights to try and develop for these days, mainly due to clients requesting fantastic looking sites / web apps in line with today's trends which need to cater for IE8, despite its overwhelming inability to support all the new fancy stuff (included CSS3). Yes, there are some plugins to provide a crutch to the geriatric browser, but it really needs to be put out of its misery instead of dragging it along further.
Hopefully, the tide is about to start turning, as with the not-too-far-off launch of Windows 10, which looks to be something of a game changer, brings with it a completely new browser. Not a replacement for Internet Explorer (at this stage at least), Spartan looks like it's coming to tackle Chrome and Firefox hard.
It is said to be a completely stripped down browser offering massive performance increase over IE, and at least matching those of current-day Chrome, including the Javascript engine performance. Furthermore, it is reported to perform better than Chrome using the WebGL API.
If these claims are to be believed, once Windows 10 rolls out, hopefully the scales will tip in favour of Spartan, and less toward the outdated IE – especially with the whispers of HTML6 and CSS4 on the horizon. Better yet – they are making a free upgrade for the first year, so there's no reason not to get it.
The end result for me is this… We've got access to fancy new stuff – please can we stop using this archaic nonsense? It's kinda like dragging an Amish person out of their commune into the city and watching the stunned startled expression as they try to adapt. Let IE9 become the lowest common IE-denominator and let's stop trying to strap fancy stuff into an old browser. One can hope at any rate…
This is SPARTAAAAA(N)!